Morphy Richards 45041 Rise And Fall Fryer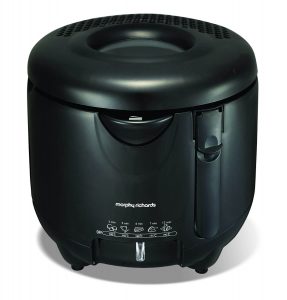 The Morphy Richards brand has been around for years now and continues to be one of the biggest competitors in the fat fryer market. Morphy Richards always seem to be able to compete with their rivals in many markets and it's easy to see why with top products such as the Morphy Richards 45041 Rise And Fall Fryer (VIEW PRICE HERE!). This product was first available to purchase in 2010 and still 6 years later is one of the top fryers on the market with thousands of products being sold every year.
If you're looking for a top deep fat fryer that is not only affordable but also does everything it says it will, the Morphy Richards fryer might just be what you're looking for. In terms of reliability it's about as reliable as a fryer gets and many people who purchased this fryer 6 years ago still use the same one to date, so it's worth every penny as far as we're concerned.
This fryer isn't particularly big, but along with many different features in its compact design, this Morphy Richards fryer can also hold up to 2.2 Litres of oil which can cater for up to 800g food at any one time, which is pretty generous for its size. Here are a few other features the Morphy Richards provides:
Variable thermostat – With the variable thermostat feature you'll easily be able to select a temperature to suit the food you are frying. With this thermostat you will know exactly how long to put your food in for as per the cooking instructions which makes planning your cooking a lot easier.
2 Litre oil capacity – With a spacious 2.2 Litre oil capacity you will be able to cook up to 800g of food at any one time, which is more than enough for a small family. This will make cooking a lot less time consuming as you'll only need to cook the one item once.
Rise and fall handle – The external rise and fall handle is useful because you'll be able to put it down when putting the fryer away until next time, then a simple click of a button is all you need to have it rise again.
Low oil frying - cook your favourite meals with less fat
Extra large capacity - cook 2-4 portions
Rapid air technology - for perfectly fried food without the fat
Easy to use manual controls - simply select cooking time and temperature
Lid window – You can check on your food whilst it's being cooked at any time thanks to the nifty little window on top of the lid. It will save you time as you won't have to keep opening the lid every time to check on the food, which will also keep you safe from any potential oil splashes.
Easy clean system – This Morphy Richards fryer was designed to be easy to clean after every use, and with the removable lid and components it's very easy to dissemble and wash up. The components are also dishwasher safe so all you will have to concentrate on is taking it apart and putting it back together again which is also a quick and easy job.
Temperature cooking guide – Not only does this fryer have a variable thermostat but you can also change the temperature to specifically cook a particular food. There is a diagram above each temperature, for example a picture of fish to be cooked at 145 degrees for 5 minutes.
This fryer can't be knocked for anything, it doesn't really have any negatives other than the fact it could probably do with being a little bigger, but it's sufficient enough for a small to medium sized family. If you are looking for a reliable fryer that can do all the basics and still have a few other features such as the easy cleaning components, this Morphy Richards could be the fryer you've been looking for.
Summary
Features: Easy clean system – Lid window – Variable thermostat
Pricing: Mid-Range
Low oil frying - cook your favourite meals with less fat
Extra large capacity - cook 2-4 portions
Rapid air technology - for perfectly fried food without the fat
Easy to use manual controls - simply select cooking time and temperature